2013 Egg Share
Fresh, pastured, natural eggs! Receive weekly egg deliveries directly from the farmer. Eggs are delivered to your doorstep in the Mansion and South End neighborhoods of Albany or you can pick up on farm. Our nutritious eggs are a mix of colors and come from a diverse flock. They are fed all natural grain as well as pasture seasonally. Even the mainstream medical establishment agrees that eggs are a very healthy food, rich in lean protein, iron, vitamins, minerals, and cartenoids to fight disease. Find a variety of egg recipes here.
COST AND AVAILABILITY
Medium/Large Eggs: Cost is sliding scale $4-5 per dozen. Depending on when you join and how many dozen eggs per week you request, we will bill you accordingly.  Doorstep delivery in the Mansion/South End of Albany or downtown Troy is included.
Small/Medium eggs will be offered occasionally at a reduced price.
DELIVERY
On the arranged day, eggs will be left on your stoop or porch and we ring the doorbell upon arrival. Please leave a box or cooler out for the eggs if you want additional protection. We recycle egg cartons, so please leave out clean, used egg cartons for us to pick up.
HOW TO SIGN UP
If you are interested please APPLY HERE. The number of shares is regularly adjusted month depending on the productivity of the hens. Continuing customers get first dibs; otherwise we are first come, first serve. Wait for your invoice and then use PayPal or make a check payable to Soul Fire Farm and send to 1972 State Rte 2, Petersburgh NY, 12138.  Our farm to customer communication is generally by email so let us know if you need to receive information through a different medium. Thanks!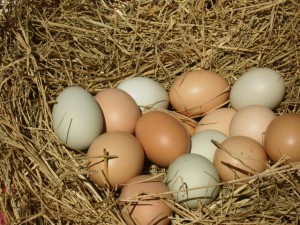 *We want you to be happy with your food. If your eggs arrive cracked or there is a mistake in your order, please let us know, and we are happy to replace the dozen at no cost to you.