International Solidarity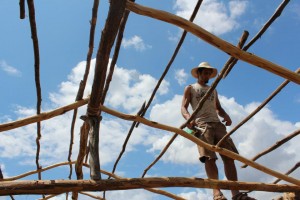 Our work as activists and farmers in upstate New York, reaches far beyond the confines of our state and country. We have been asked to participate in community projects abroad that have deep personal meaning for us.  Our recent and current projects are briefly described below.  Donations can be made towards any of these projects thru our fiscal agent, the Social Justice Center in Albany, NY.
HAITI
In January 2012, Leah joined Ayiti Resurrect, a delegation of healers, artists, and culture workers from Haiti and African diaspora in the town of Cormier, around the anniversary of the devastating 2010 earthquake. The delegation was centered around physiological, spiritual, and environmental healing.  Leah worked to setup a composting toilet system for the community as well as working with local growers to develop a sustainable agricultural plan for reforestation, and reviving the area's soils and agrarian culture.
In January of 2013 Leah returned to Haiti to plant 1000 mango and lemon trees with the Cormier Mango Growers Association.  This diversified orchard is a key step to re-establishing a local livelihood that is economically and environmentally sustainable. In 2014, she coordinated a solar mango dryer initiative and cared for the trees planted the previous year. We have an ongoing commitment to working on solidarity with our farming brothers in sisters in Ayiti!
BRAZIL
In January 2012, Jonah helped facilitate the building of a community healing space as part of an international collaboration with landless workers, subsistence farmers, artists, and activists on the Ciclovida farm in northeastern Brazil. The healing space was built entirely with resources from the land and cost about $40. The gathering of 20 North Americans and 40 Brazilians was called an Encuentro – an opportunity and space for people to share skills, knowledge, stories and strategies. We will continue to respond to the stated needs of the farming community as they resist the threats of the agro-industrial complex on their traditional ways of being with the land. You can read about it here.
Jonah doesn't know when he'll return but will need to in order to retrieve the part of his heart he left behind… and support grassroots work throughout the country with his natural building skills.
GHANA
Leah has had a close relationship with the Krobo people in Eastern Region of Ghana since 2001. Most recently, Youth Vision started the Disabled Peoples Livelihood Enhancement project which aims to start a poultry farm operated by and for the benefit of people living with disabilities. There is no social safety net for disabled people in the community and the revenue would provide basic access to food, sanitation, clothing, and housing to the collective members.
Follow soulfirefarm