Our Team
Leah Penniman got her farming start as a teen with the Food Project in Boston, MA. She then worked with the Farm School caring for goats and teaching city kids where carrots come from. Leah also worked for and co-managed Many Hands Organic Farm in Barre, MA for several years, co-founded Youth Grow in Worcester, MA, and worked with farmers in Ghana, West Africa and Komye, Haiti. She is a full time high school science teacher and works hard on the farm in between. Her areas of leadership at Soul Fire include youth educational programming, international solidarity with Haitian farmers, food justice organizing, teaching aerial silk trapeze, and anything that involves heavy lifting, sweat, and soil.
Jonah Vitale-Wolff apprenticed at Live Power Farm in CA after working on farms throughout New Zealand, Spain, and Central America through the WWOOF program, and was hooked.  He returned to his northeast roots to build skills as a farmer in this particular climate by working over many seasons at Many Hands Organic Farm in Barre, MA. Jonah also coordinated the city-wide community gardens program in Worcester, MA with the Regional Environmental Council, and later collaborated with Leah to start  Youth GROW, making urban agriculture central to his understanding of the food system.
Soul Fire Farm is a project of Jonah and Leah's hearts – of family and relationships, and the profound ways in which the sacred connection to land creates a powerful vessel for social change and personal transformation, growth and healing. Jonah finds the open sky and bird song foundational for a good life, but not unless he can share it with friends and community. Jonah is also an accomplished timber framer, natural builder and educator with his former company Hudson Valley Natural Building.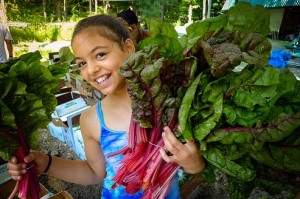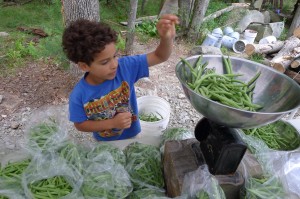 Neshima and Emet Vitale-Penniman got an early start with growing, assisting parents and friends with tending chickens, planting seeds, and cleaning garlic. The children excel at CSA packing with exceptional attention to detail, positive attitudes, and usually – singing. Neshima also brings her passion as a harpist to the farm, as well as her spirited ways of moving her body through gymnastics, aerial silks, and just playing around.  Emet is a student of traditional West African drumming, and regularly graces the sound waves of the farm with his poetry, singing, rhymes, and has been known to spontaneously break dance at the slightest sound of a beat.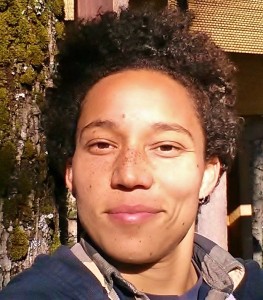 Cheryl DeSanctis joins the team at Soul Fire Farm after co-founding Restoring Roots, a sustainable and edible landscaping cooperative in Boston, Massachusetts. An activist, healer, farmer, and entrepreneur, she has also spent her time on Alternatives for Community and Environment's (ACE) Land and Food Committee in Boston, MA., and as a Food Justice Ally with People's Grocery in Oakland, CA. She continues to deepen those relationships as the passion she brings to Soul Fire began while working within an urban context. Cheryl also created a thesis on food sovereignty and 'food justice', sustainable agriculture, and land politics while earning a Bachelor's of Arts at Hampshire College. To help uplift communities, Cheryl's drive to participate in a paradigm shift of land use and her passion for fostering a connection between land and people contains a vibrant core of spirituality, deep nourishment, and healing. She is honored to join forces and contribute her efforts to Soul Fire Farm.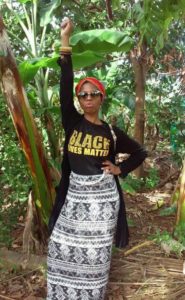 Amani Olugbala is a storyteller who weaves music, film, speech and poem into art that highlights social injustice, honors the ancestors and demands for change. This, in an effort to uplift the spirits of the marginalized and promote love and service as necessary acts of rebellion against isolation and disconnection. An artist, farmer, educator and community organizer Amani uses artistic expression, urban agriculture and social awareness to impact change and foster a sense of empathy and inter-being in local urban communities. Amani is a guest facilitator for Black and Latino Farmers Immersion and our fall workshop series.
Han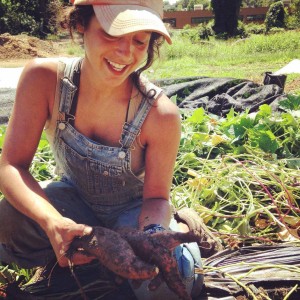 nah Slipakoff began learning how to grow vegetables as a teenager in Philadelphia, PA where the food justice and urban agriculture movement catalyzed her political and social consciousness.  She is grateful to have experienced learning and working on diverse urban and rural farms over the past ten years, and is extremely honored to be joining the Soul Fire team this season. Hannah works in awe of the innate human power to create, nurture, and sustain life. She balances her dedication to growing food with fierce commitment to practicing yoga, serving as a birth doula, creating art, and working with spirit in the kitchen.
Board Members
| | |
| --- | --- |
| Leah Penniman | Soul Fire Farm |
| Jonah Vitale-Wolff | Soul Fire Farm |
| Adaku Utah | Beatbox Botanics, Dance, Health Ed |
| Jalal Sabur | Freedom Food Alliance, Prison Bus Project |
| Adele Smith-Penniman | UU Minister, Artist |
| Dan Lyles | PhD Candidate RPI |
| Elena Rosenbaum | Physician, Community Care |
| Gabrilla Ballard | Songwriter, Artist, Healer |
| Kavitha Rao | Common Fire |
| Owen Taylor | Farmer, Educator, Musician |
| Tagan Engel | Community Food Systems Coord. City Seed |
| Abby Lublin | Community Organizer, Troy |
| Kristin Reynolds | Food System Professor, New School |
| Naima Penniman | Performing Artist |
| Taina Del Valle | Performing Artist |
Core Volunteers
Elizabeth Vitale – gratitude offerings
Amy Ellis – Honest Weight Food Coop liaison
Mab Segrest – grantwriting
Raona Roy – institutional advancement
Yale Legal Clinic – legal advising
Truemaster Trimingham – DJ, promoter, producer
Micaela Mathre – social media
Follow soulfirefarm