Meet the Farmers
Leah Penniman got her farming start as a teen with the Food Project in Boston, MA. She then worked with the Farm School caring for goats and teaching city kids where carrots come from. Leah also worked for and co-managed Many Hands Organic Farm in Barre, MA for several years, co-founded Youth Grow in Worcester, MA, and worked with farmers in Ghana, West Africa. Not having enough to do with a full time science teaching position, she figures its about time to start her own farm.
Jonah Vitale-Wolff interned at Live Power Farm in CA and worked on farms throughout New Zealand, Spain, and Central America through the WWOOF program. Jonah coordinated the city-wide community gardens program in Worcester, MA with the Regional Environmental Council, and later collaborated with Leah to start  Youth Grow. He also worked together for several years with Many Hands Organic Farm in Barre, MA. Jonah finds the open sky and bird song foundational for a good life, but not unless he can share it with friends and community. He also runs his own natural building and education business, Hudson Valley Natural Building.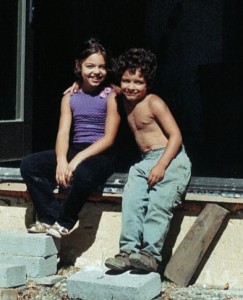 Neshima and Emet Vitale-Penniman got an early start with growing, assisting parents and friends with tending chickens, planting seeds, and cleaning garlic. Neshima specializes in zinnias and recently earned enough sales to buy an MP3 player. Emet specializes in watering the vegetables (and his sister).